This week I decided to make my recipe early for Tuesdays with Dorie. So Friday morning I set out to baking. I'm not much of a pumpkin fan, at least not pumpkin pie, too dense and TOO much pumpkin flavor for me. I do enjoy pumpkin cheesecake and some other pumpkin treats, and there are definitely others in my house who do, so I decided to give it a go.
I really am glad that I did! This recipe is truly delicious. It called for nuts, which I like but no one else in this house does (ugh) so I switched out the nuts for milk chocolate chips. It also called for sunflower seeds to decorate the tops. I KNEW if I did that no one would eat them (except for me and my hips are big enough thank you very much) so I eliminated that step. That left them a little naked, so to jazz them up a little, I dotted a few extra chips on the tops of half of them, and drizzled melted almond bark on the other half. YUM!!

The recipe called for baking these for 25 minutes in a 400 degree oven. I felt that was too high and worried they would burn, so I dropped the temp to 375. I checked them after 20 minutes and they were still a little underdone. 5 more minutes did the trick and they are wonderful. I was going to make my Cinnamon Butter with this, however the addition of the chocolate chips eliminated any need for additional toppings or spreads. Not to say this wouldn't be divine heated up with a bit of butter, yummy!
This week's TWD recipe, Pumpkin Muffins, was chosen by Kelly of Sounding My Barbaric Gulp. Visit her blog if you would like to get the recipe! :) To see how other TWD bakers faired on this recipe, check out the blogroll!
More Muffin Recipes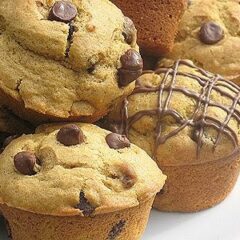 Chocolate Chip Pumpkin Muffins
IMPORTANT - There are often Frequently Asked Questions within the blog post that you may find helpful. Simply scroll back up to read them!
Print It
Rate It
Ingredients
2

cups

all-purpose flour

2

teaspoons

baking powder

1/4

teaspoon

baking soda

1/4

teaspoon

salt

3/4

teaspoon

ground cinnamon

1/2

teaspoon

ground ginger

1/8

teaspoon

freshly grated nutmeg

pinch

of ground allspice

1

stick

8 tablespoons unsalted butter, at room temp.

1/2

cup

sugar

1/4

cup

packed light brown sugar

2

large eggs

1/2

teaspoon

vanilla extract

3/4

cup

canned unsweetened pumpkin puree

1/4

cup

buttermilk

1/2

cup

golden raisins

3/4

cup

milk chocolate chips

separated
Instructions
Center a rack in the oven and preheat the oven to 400 degrees F. Butter or spray 12 cupcake molds in a regular-size pan or fit with paper cups. Place the pan on a baking sheet.

Whisk together the flour, baking powder, baking soda, salt and spices. Set aside.

Working with a stand mixer fitted with a paddle attachment or with a hand mixer in a large bowl, beat the butter at medium speed until soft. Add both the sugars and continue to beat until light and smooth.

One by one, add the eggs, beating for a minute after they are incorporated, then beat in the vanilla.

Lower the mixer speed and mix in the pumpkin and buttermilk. Add the dry ingredients in a steady stream, mixing only until they disappear. To avoid overmixing, you can stop the machine early and stir in any remaining dry ingredients into the batter using a rubber spatula.

Stir in the raisins and 1/2 cup of the chocolate chips. Divide the batter evenly among the muffin cups and using the remaining 1/4 cup chocolate chips, dot the top of each muffin.

Bake for about 17-20 minutes, or until a knife inserted into the center of the muffins comes out clean.

Transfer the pan to a rack and cool the muffins for 5 minutes in the pan, then carefully remove each one from its mold to finish cooling on the rack.
Amanda Formaro is the crafty, entrepreneurial mother of four grown children. She loves to bake, cook, make kid's crafts and create decorative items for her home. She is a crafting expert and guru in the kitchen and has appeared online and in print publications many times over the years. She is also a craft book author five times over and product developer as well as the owner of
FunFamilyCrafts.com
. You can find her on social media by using the buttons to the left!
Latest posts by Amanda Formaro (see all)