A beautiful summer fruit crisp is the perfect way to use seasonal fruits for a delicious baked dessert. It's also low enough in sugar per serving that it can double as a healthy fruit filled breakfast. You can serve this berry crisp hot or cold, with ice cream, whipped cream, or simply enjoy it on its own.
I love this just as much as this prize winning berry rhubarb crumble!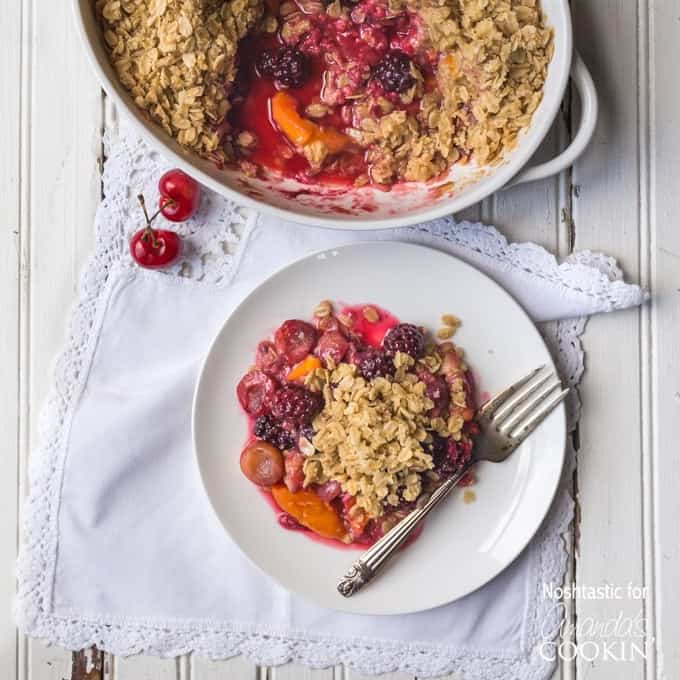 Summer Fruit Crisp
For this Summer Fruit Crisp you can vary the fruit a little from my selection if you like, depending on what's in season and available locally. I used apricots as I already had them in my fridge, but ripe peaches or nectarines would be a lovely alternative. I haven't found any ripe peaches worth eating so far as it's probably still a little early for them. Blueberries instead of blackberries would also be an easy and delicious substitution.
Making the topping for this fruit crisp is pretty easy; it just requires mixing the ingredients together. Don't get too hung up on the size of the butter chunks. Once it begins to cook it will all melt together in the oven and come out nice and crispy.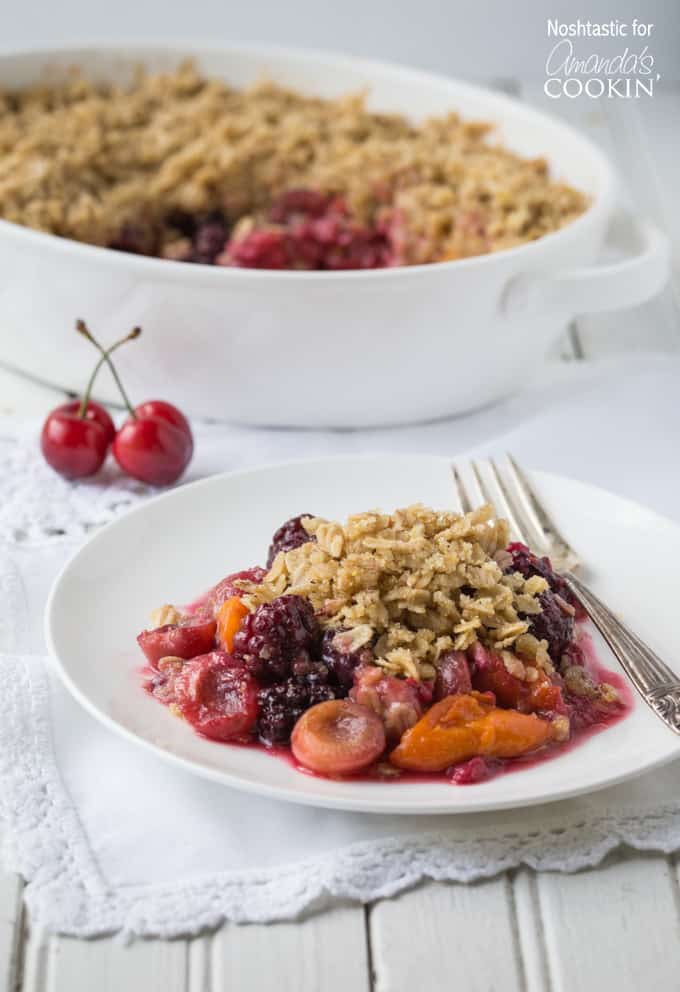 There are affiliate links in this post. That means if you buy something from that link, I will earn a small commission, but it won't cost you anything additional.
Ingredients you will need
3 apricots, sliced and pitted
1 1/4 cups blackberries
1 1/4 cups raspberries
1 1/4 cup cherries, pitted
2 tbsp light brown sugar
Topping ingredients:
1/3 cup all purpose flour
1/4 cup (packed) light brown sugar
1 cup rolled oats
1 stick butter
Tools you'll find useful: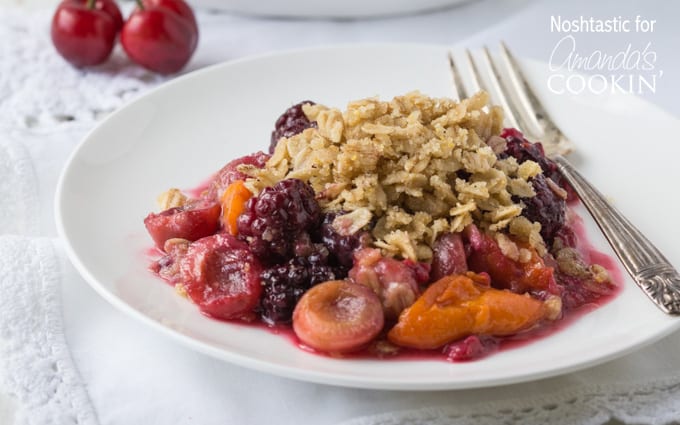 Baking Tips:
If you prefer a very crispy topping you can leave it in the oven a little bit longer, however the longer cooking time may result in the fruit getting a bit softer.
If you prefer that the fruit hold its shape more, you may need to enjoy this dessert with a little bit less crispy topping. It really comes down to personal preference, adjust the cooking time according to what you want to achieve.
If you're comfortable with using your broiler for quick browning, you could pop the crisp in for a short minute or two to brown the topping.
Please scroll down for the printer friendly recipe
Amanda's Notes:
I love this fruit crisp that Sheena shared with us! I didn't always love cobblers and crisps though. However, as I've grown older I've become more open to trying things that I didn't grow up with. My mom didn't make cobblers and crisps, so they were a bit foreign to me for a long time. Now however, I love a good fruit crisp just like everyone else! Especially when served warm and topped with vanilla ice cream. Sheena's Summer Fruit Crisp looks amazing and I can't wait to try it!
One favorite from my recipe library is this Apple Cranberry Crisp. I especially love these flavors in the fall, but I often have bags of fresh cranberries in the freezer so it would be easy to make this any time of year.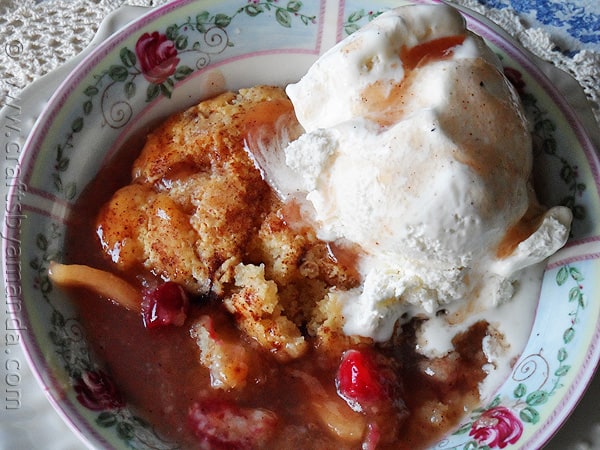 If you don't have cranberries in the freezer, this Pear-Peach Crisp may be a better choice. This is also one of my favorites, especially because I don't really eat peaches too often. This particular dessert is amazing!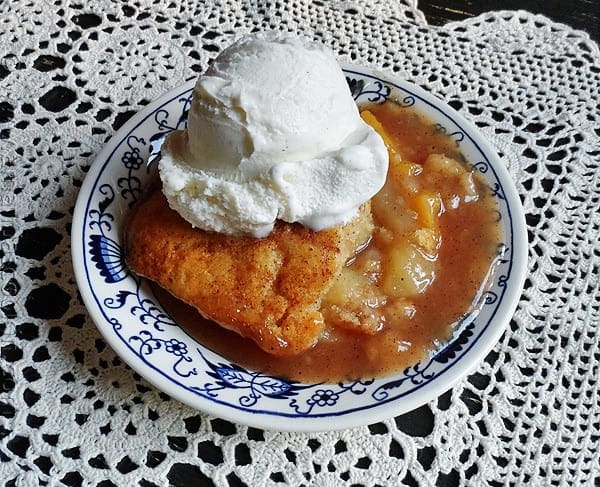 If you're like me and occasionally enjoy the convenience of making dessert from cake mix, try our crockpot apple cobbler or this Quick Cranberry Apple Cobbler is right up your alley. Have you noticed that I like serving these desserts with vanilla ice cream??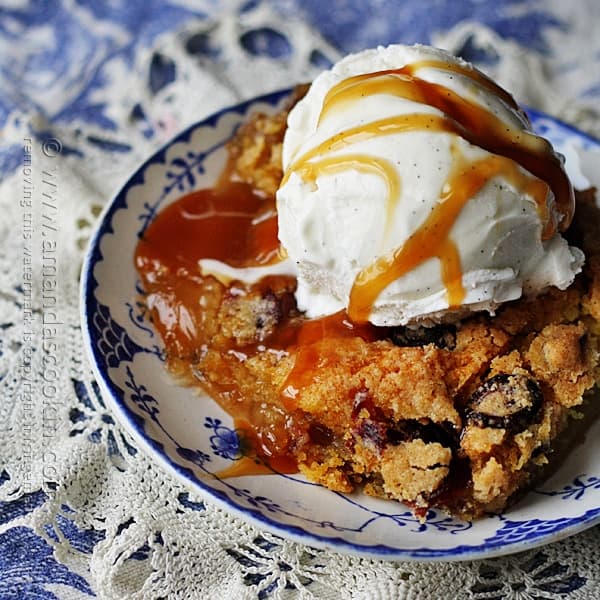 Hope you enjoyed this delicious recipe! Be sure to subscribe to my newsletter for FREE recipes and craft ideas.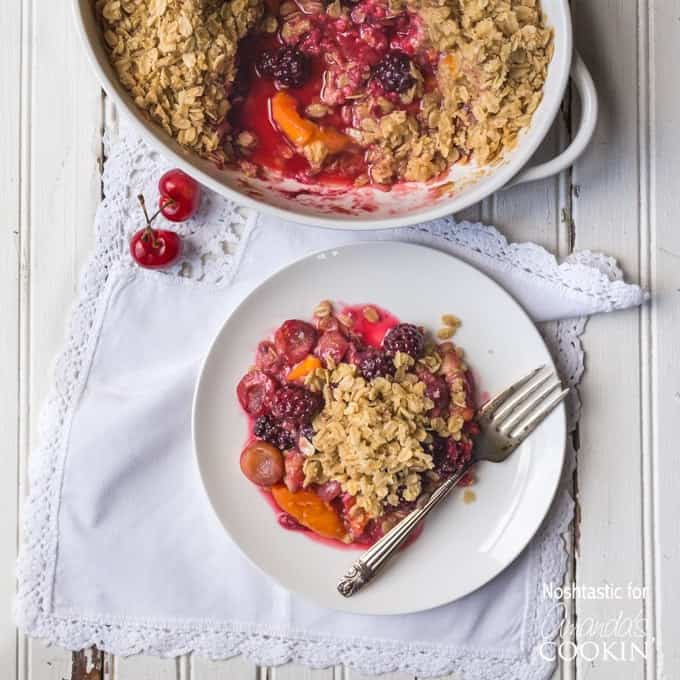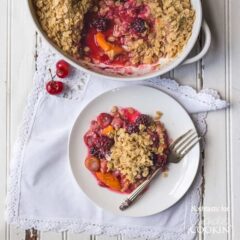 Summer Fruit Crisp
IMPORTANT - There are often Frequently Asked Questions within the blog post that you may find helpful. Simply scroll back up to read them!
Print It
Rate It
Text It
Ingredients
3

apricots

sliced and pitted

1 1/4

cups

blackberries

1 1/4

cups

raspberries

1 1/4

cup

cherries

pitted and halved

2

tbsp

light brown sugar
TOPPING
1/3

cup

all purpose flour

1/4

cup

light brown sugar

1

cup

rolled oats

not instant

1

stick butter

cut into small pieces
Instructions
Preheat your oven to 375°F.
For the fruit filling:
Place all fruit into a bowl and sprinkle with brown sugar. Stir gently to combine.

Transfer the fruit and sugar mixture to an 8x8 baking dish.
For the topping:
Combine all topping ingredients and mix together. You can use a fork or rub it together using your fingers.
For the crisp:
Sprinkle topping over fruit mixture in baking pan. Bake for 30 - 45 minutes, until topping is lightly browned. If you prefer a darker, crisper topping you can bake it a little longer, but the fruit will get softer.

Allow fruit crisp to cool for 5-10 minutes before serving.
Originally from Scotland, Sheena and her husband moved to Mississippi in 2008 after living in London, England for several yearsIn 2009 Sheena discovered she had Celiac disease. Not long after her diagnosis, her youngest son was also diagnosed with Celiac. After a lengthy recovery process, her blog Noshtastic was born. She now loves to create gluten free recipe that are full of flavor!
Latest posts by Sheena Strain (see all)